★★★★½
Book: Jeff Whitty; Music: Tom Kitt & Lin-Manuel Miranda; Lyrics: Amanda Green & Lin-Manuel Miranda
David Venn Enterprises, Athenaeum Theatre, until July 27
This big-hearted and spectacular production of Bring It On: The Musical returns to Melbourne after a sold-out premiere season, and proves such irresistible, high-energy fun it should play to full houses again this time round.
Loosely based on the 2000 teen movie starring Kirsten Dunst, the musical significantly reworks the plot of the film. It's an improvement, too, offering a less fluffy and more enlightened take on race and class in an American high school, while preserving the angst and the comedy of the movie – not to mention the eye-popping choreography and athleticism of competitive cheerleading.
The last is a sight to behold. It's rare for musical theatre to require an extraordinary level of choreography and gymnastic prowess – perhaps the closest I've seen was the acrobatic flair of Barnum, which came to Melbourne earlier this year. Yet not even the circus musical comes close to the dynamic and demanding athleticism on display here.
Michael Ralph's choreography (together with Natalie Commons' cheer-coaching) pulls out all the stops to create set pieces that mix synchronicity and individual feats into a blaze of athletic glory.  The group work dazzles in a range of dance styles, and the wow factor is even higher in the gravity-defying filigree these backflipping acro-brats work into their routines.
not a single weak link … a ridiculously entertaining, feel-good experience
There's not a single weak link, with two charismatic leads igniting the central buddy story between queen bees Campbell (Kirby Burgess) and Danielle (Jasmine Smith), whose friendship is forged in the crucible of inter-school rivalry.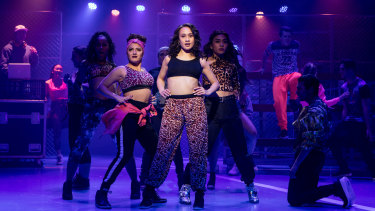 As their vocals soar from pop to soul, superb comic acting from the supporting cast fleshes out the cliquey world of adolescence. Baylie Carson is adorable, and terrifically funny, as a misfit who finds unexpected popularity in a school of misfits.
Emily Thompson and Hollie James get their ditz on as besties transformed into mean girls, while Marty Alix and Samantha Bruzzese are fierce as soul-sister sidekicks on the other team. Karla Tonkich as ultra-biatch Eva revels in camp villainy, and the male cast members carve out recognisable sketches – and pull off some wicked street dancing – without taking the spotlight from the women Bring It On puts centre stage.
Alister Smith directs with pep and precision, confecting a musical theatre experience where dance, acting, acrobatics and song effortlessly combine. It's a ridiculously entertaining, feel-good experience, and if you know any teenage girls – as many in the opening night audience did – this is their perfect night out, and probably the most exciting show for them since Wicked.
Publication: The Age
Author: Cameron Woodhead